Antiseptic Skin Cleansers (Personal Domestic Use)
Help on accessing alternative formats, such as Portable Document Format (PDF), Microsoft Word and PowerPoint (PPT) files, can be obtained in the alternate format help section.

(PDF Version - 83 K)
Date
2021-12-24
Foreword
This monograph is intended to replace the existing Antiseptic Skin Cleansers of March 20, 2020. This monograph describes the requirements necessary to receive market authorization [i.e. a Drug Identification Number (DIN) or a Natural Product Number (NPN)], for topical antiseptic hand cleansers intended for domestic/personal care use. Domestic/personal care antiseptic products are self-selected by a consumer from a retail outlet for their own personal household use as part of a skin cleansing routine. This monograph does not apply to antiseptic products intended for personal use in a commercial or institutional setting (e.g. workplaces, washrooms in public buildings), or for professional use in food-handling premises or in healthcare settings (e.g. hospitals, nursing homes, clinics, dental offices). The monograph also does not apply to personal use antiseptic products for wound cleansing, or application to sites other than the hands. The monograph identifies the permitted medicinal and non-medicinal ingredients, concentrations, indications, directions and conditions of use for these products to be market authorized without the submission to Health Canada of additional evidence. Products which do not meet the criteria outlined in this document can apply for market authorization outside of the monograph stream. Applicants/sponsors should consult the Human-Use Antiseptic Drugs guidance document, and/or request a pre-submission meeting to discuss appropriate supporting data. For products intended as wound cleansers, applicants should refer to the First Aid Antiseptics monograph.
Health products that are not to be ingested (e.g., for topical use only) such as Antiseptic Skin Cleansers are not permitted to be packaged in food and/or beverage containers.
Domestic/personal use antiseptic hand cleansers should be used sparingly and are not a substitute for the use of plain soap and water. Antiseptic skin cleansers should be recommended for use on lightly soiled hands only as a second-line approach or when soap and water are not available
Applicants are reminded that antiseptic skin cleansers, like other non-prescription drugs or natural health products, are subject to the Food and Drug Regulations or the Natural Health Products Regulations administered by the Natural and Non-prescription Health Products Directorate (NNHPD). This includes requirements related to labelling, manufacturing and product specifications. Additional information on labels, outside of those specified in the monograph, such as additional directions for use and/or non-therapeutic claims are acceptable as long as they meet the Guidelines for the Nonprescription and Cosmetic Industry Regarding Non-therapeutic Advertising and Labelling Claims, the Guidelines for Consumer Advertising of Health products for Nonprescription drugs, Natural Health Products, Vaccines and Medical Devices, and are not false, misleading or counterintuitive to the use of the product.
The development of this monograph is the result of a thorough review of existing regulations, guidance documents, policies and current practices within Health Canada and other leading regulatory agencies.
Note:
The solidus (/) indicates that the terms and/or the statements are synonymous. Either term or statement may be selected by the applicant. Text in parentheses is additional optional information which can be included on the Product Licence Application form and label at the applicant's discretion.
Medicinal Ingredient(s)
Antiseptic skin cleansers are classified as natural health products (NHPs) if they contain only ingredients from Table 1. Applicants applying for an NPN can access the appropriate forms and guidance at: https://www.canada.ca/en/health-canada/services/drugs-health-products/natural-non-prescription.html.
Antiseptic skin cleansers are classified as non-prescription drugs if they contain at least one ingredient from Table 2 at a quantity listed. Applicants applying for a DIN can access the appropriate forms and guidance at: https://www.canada.ca/en/health-canada/services/drugs-health-products/drug-products/applications-submissions/guidance-documents.html.
Table 1: NHP medicinal ingredients
Proper Name1
Common Name1
Source Material1
Quantity2
Common name(s)

Ethyl alcohol

Alcohol
Anhydrous alcohol
Ethanol
Ethyl alcohol
Grain alcohol

Ethanol

60-80%


2-propanol

Isopropanol
Isopropyl alcohol

Isopropanol

60-75%

Table 2: Non-prescription drug medicinal ingredients
Proper Name
Common Name
Source Material
Quantity
Common name(s)

Alkyldimethyl(phenylmethyl)ammonium chloride
Ammonium, alkyldimethyl(phenylmethyl)-, chloride

Benzalkonium chloride
Benzalkonium chloride
0.1 - 0.15%


Benzyldimethyl[2-[2-(p-1,1,3,3-tetramethylbutylphenoxy)ethoxy]ethyl]ammonium chloride
N.N-Dimethyl-N-[2-[2-[4-(1,1,3,3-tetramethylbutyl)phenoxy]ethoxy]ethyl]benzenemethanaminium chloride

Benzethonium chloride

Benzethonium chloride

0.05 - 0.5%


1,1'-Hexamethylenebis[5-(p-chlorophenyl)biguanide] di-D-gluconate
N,N''-Bis(4-chlorophenyl)-3,12-diimino-2,4,11,13-tetraazatetradecanediimidamide di-D-gluconate

Chlorhexidine digluconate
Chlorhexidine gluconate

Chlorhexidine digluconate
Chlorhexidine gluconate

2 - 4%

4-Chloro-3,5-dimethylphenol
4-Chloro-3,5-xylenol

Chloroxylenol
Chloroxylenol
0.5 - 3%

2,4,4'-Trichloro-2'-hydroxydiphenyl ether
5-Chloro-2-(2,4-dichlorophenoxy)phenol

Triclosan
Triclosan
0.1 - 1%
Route of administration
Topical
Dosage form(s)
Acceptable dosage forms for the age category listed in this monograph and specified route of administration are indicated in the Compendium of Monographs Guidance Document.
Use(s) or Purpose(s)
Self-Care Framework Category I Uses or Purposes:
For all ingredients, the following statements may be made:
Antiseptic (skin) cleanser (Krinsky 2017, Ascenzi 1996)
Medicated (skin) cleanser (Krinsky 2017, Ascenzi 1996)
Antibacterial (skin) cleanser (Krinsky 2017, Ascenzi 1996)
Kills harmful bacteria/germs (Krinsky 2017, Ascenzi 1996)
Effective in destroying (harmful) bacteria to provide antiseptic cleansing (Krinsky 2017, Ascenzi 1996)
For personal hand hygiene to help prevent the spread of bacteria (Ascenzi 1996, Trampuz and Widmer 2004)
Dose
Subpopulation(s):
Children 2 to 11 years, Adolescents 12 to 17 years, Adults 18 years and older
Quantity:
See Tables 1 and 2.
Permitted combinations:
No combinations are permitted
Directions for use:
For all products:
Supervise children when they use this product (FDA 2016).
For occasional and personal domestic use.
For products intended as handrubs or wipes:
Rub thoroughly into hands for at least 30 seconds. Allow to dry (Health Canada 2009).
For products intended as handwashes:
Lather in hands with water for at least 30 seconds. Rinse well (Health Canada 2009).
Duration of use:
No statement required.
Risk information
Cautions and warnings
For all products:
For external use only
When using this product avoid contact with eyes. If contact occurs, rinse thoroughly with water.
Stop use and ask/ consult a doctor/ physician/ health care practitioner/ health care provider/ health care professional if irritation develops (Krinsky 2017, FDA 2013).
Keep out of reach of children. If swallowed, call a poison control centre or get medical help right away.
For products containing ethanol or isopropanol:
Flammability warning Keep away from open flame and sources of heat (Ascenzi 1996).
Contraindication(s):
For products containing chlorhexidine gluconate:
Do not use on children/infants less than 2 years of age (unless directed by a doctor/ physician/ health care practitioner/ health care provider/ health care professional).
Known Adverse Reaction(s)
No statement is required.
Non-medicinal ingredients
Ingredients must be chosen from the current Natural Health Products Ingredients Database (NHPID) and must meet the limitations outlined in that database, the Food and Drug Regulations (FDR), and the current Cosmetic Ingredient Hotlist, when relevant.
Storage condition(s)No statement required Specifications
This monograph describes those requirements that are specific to this class of non-prescription drugs and to natural health products (NHPs). Any change to the manufacturing process that impacts the safety and efficacy of the ingredients, such as the use of novel technology (e.g. nanotechnology), requires supporting data and will be reviewed outside the monograph.
For products containing Table 1 NHP medicinal ingredients only:
The finished product specifications must be established in accordance with the requirements described in the NNHPD Quality of Natural Health Products Guide. The medicinal ingredient must comply with the requirements outlined in the NHPID.
For products containing Table 2 non-prescription drug medicinal ingredients:
Requirements described in the Regulations to the Food and Drugs Act must be met.
Drug facts table (Format Optional for Self-Care Category I)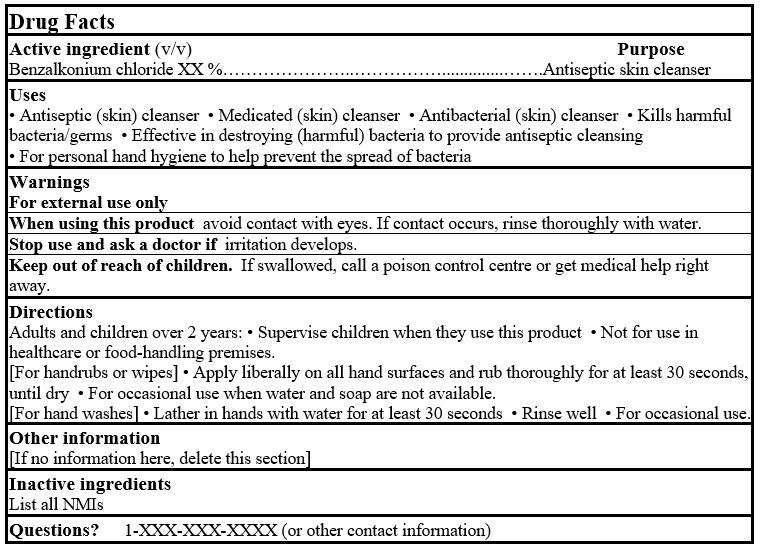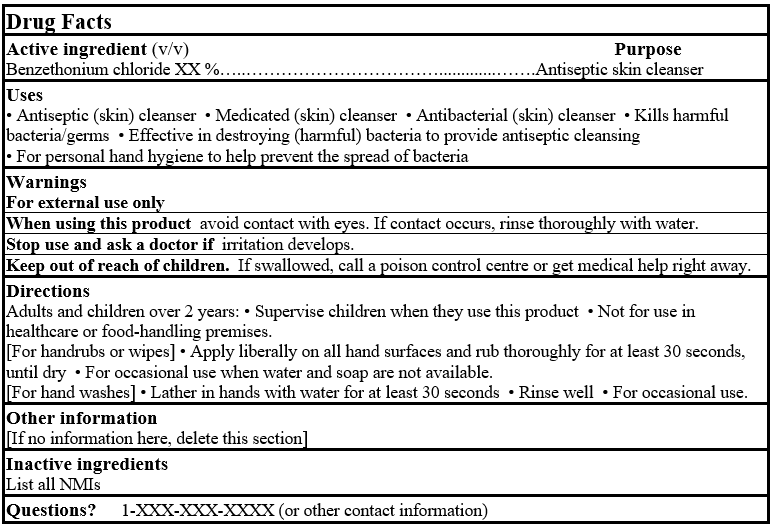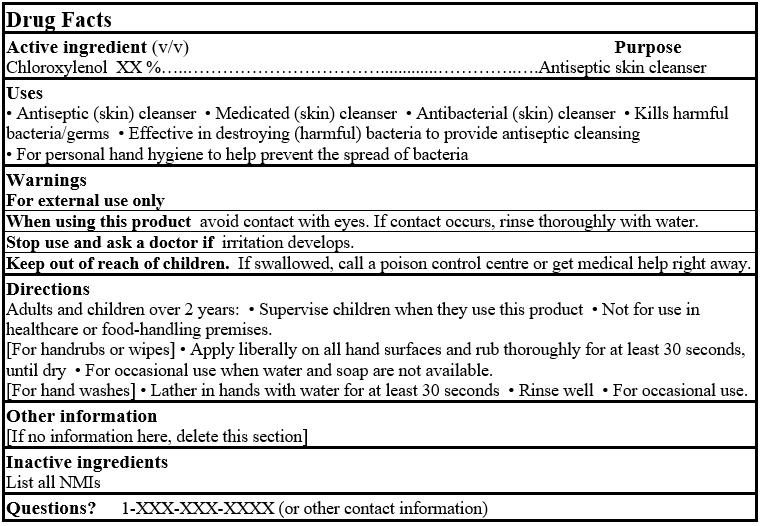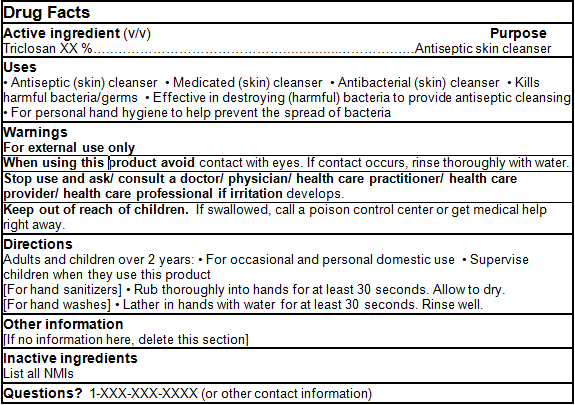 References cited
Ascenzi JM. Handbook of Disinfectants and Antiseptics. New York (NY): Marcel Dekker; 1996.
Health Canada 2009: Guidance Document: Human-Use Antiseptic Drugs. Health Canada, December 2009. [Accessed 2015 September 18]. Available from: http://www.hc-sc.gc.ca/ dhp-mps/prodpharma/applic-demande/guide-ld/antiseptic_guide_ld-eng.php#star91
Krinsky DL, Ferreri SP, Hemstreet B, Hume AL, Newton GD, Rollins CJ, Tietze KJ, Handbook of Nonprescription Drugs: An interactive approach for Self-Care, 19th edition. Washington (DC): American Pharmaceutical Association; 2017
Nikitakis J, Lange B, editors. International Cosmetic Ingredient Dictionary and Handbook. 16th edition. Washington (DC): Cosmetic, Toiletry and Fragrance Association; 2016
O'Neil MJ, Smith A, Heckelman PE, Budavari S, editors. Merck Index: An Encyclopedia of Chemicals, Drugs, and Biologicals, 2018. Whitehouse Station (NJ): Merck & Co., Inc; 2018
Sweetman SC, editor. Martindale: The Complete Drug Reference. 39th edition. London (GB): Pharmaceutical Press; 2017.
Trampuz AT, Widmer AF. Hand hygiene: a frequently missed lifesaving opportunity during patient care. Mayo Clinic proceedings 2004;79:109-116.
US FDA 2016: United States Food and Drug Administration. 21 CFR Parts 310. Safety and Effectiveness of Consumer Antiseptics; Topical Antimicrobial Drug Products for Over-the- Counter Human Use; Final Monograph; al Register, Volume 81 Number 172, September 06, 2016. [Accessed 2018 September 18]. Available from: https://www.gpo.gov/fdsys/pkg/FR-2016-09-06/pdf/2016-21337.pdf
USP 41: The United States Pharmacopeia and the National Formulary (USP 41/NF 36). Rockville (MD): United States Pharmacopeial Convention, Inc.; 2017.
WHO 2010: Guide to Local Production: WHO-recommended Handrub Formulations. Geneva (CH): World Health Organization Press; 2010. [Accessed 2020 March 20]. Available from: https://www.who.int/gpsc/5may/Guide_to_Local_Production.pdf
WHO 2009: WHO guidelines on hand hygiene in health care. Geneva (CH): World Health Organization Press; 2009.
Zimmerman DR. Zimmerman's Complete Guide to Nonprescription Drugs. Detroit (MI): Gale Research Inc.; 1993.